Delegard Tool Company and Delegard Tool of Texas are wholesale distributors of automotive tools & equipment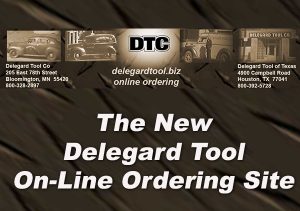 The New Delegard Tool On-Line Order Website
On-Line Ordering is now available for all of our customers!
If you are a Delegard Tool customer and not already registered to use delegardtool.biz, contact your Delegard Tool Sale Representative or give us a call!
Delegard locations will be closed:
Holiday Observance
Monday, December 24th

Tuesday, December 25th

Tuesday, January 1st
Inventory
Thursday, December 27th
Friday, December 28th
___________________________________________________________
If you are not already a customer, but would like to be, give us a call at 952-881-8683 or email the Minnesota Warehouse: ordersmn@delegardtool.com
or
email the Texas Warehouse: orderstx@delegardtool.com
Inquiries will be responded to within 24 hours!
The delegardtool.biz website allows you to check pricing and availability in real time!